Resources for
Developmental Disability Awareness Month
2021 DD Awareness Month - #MOAbility
Celebrate DD Awareness Month by sharing your #MOAbility!
March is Developmental Disabilities Awareness Month. To raise awareness about the abilities of people with developmental disabilities (DD), Missourians are encouraged to participate in the #MOAbility campaign!
About #MOAbility
In Missouri, nearly 100,000 people have a developmental disability, and each person has unique abilities – just like people without disabilities. Every day, people with developmental disabilities share their unique abilities while learning at school, getting things done on the job, hanging out with friends or family, or just participating in their community. Also, during the COVID-19 pandemic, many people have had to adapt how they live, work, and play, and this has created an opportunity for people to learn new skills and discover talents they didn't know they had. So, now more than ever, people with developmental disabilities have a lot of abilities to share!
This year for DD Awareness month, you can raise awareness about the skills, talents, and abilities of people with developmental disabilities. To raise awareness, all you have to do is share your ability on social media and use the hashtag #MOAbility.
What's a hashtag?
A hashtag is something you add to your social media post. A hashtag includes the pound symbol (#) followed by letters and/or numbers. For this campaign, the hashtag is #MOAbility.
When you use a hashtag, your social media post will become part of the group of all social media posts that use that same hashtag. So, by using the hashtag #MOAbility, you will be joining with other Missourians to raise awareness about the abilities of people with developmental disabilities.
What is your #MOAbility?
Everybody has something they're good at, and people with and without developmental disabilities are good at a lot of the same things.
So, what are you good at? What skill, talent, or ability do you want to share? Examples could include:
advocating for what you want
being productive at work
using technology (smartphones, iPads, or Zoom)
learning new things
helping others
making your friends laugh
playing video games or board games
arts and music
exercising or playing sports
outdoor activities
DIY home projects
This list is just a small sample of the skills, talents, and abilities that people with developmental disabilities share every day. There is no limit to your #MOAbility!
How to share your #MOAbility
To participate in Missouri's DD Awareness Month campaign, just post on social media using the hashtag #MOAbility. You can post a photo or video to your favorite social media platform, like Facebook, Instagram, Twitter, TikTok, or whatever platform you prefer. In the photo or video, you can either show others what your ability looks like or you can just talk about it. If you don't want to post a photo or video, you can also post text that describes your skill, talent, or ability to others.
Get started! Go to your favorite social media platform, post your photo or video, and add #MOAbility.
Who can participate in #MOAbility?
Anyone can participate in #MOAbility! All people with disabilities, including people with developmental disabilities, are encouraged to share their abilities on social media. Also, if you are a family member, friend, caregiver, etc., and you know a person with a disability who wants to participate, you are encouraged to help them post their #MOAbility.
If you are not a person with a disability and if you don't know a person with a disability, there are plenty of ways for you to get involved (see the #MOAbilty Power-Ups below).
#MOAbility Power-Ups
There are other ways for individuals and organizations to get involved in #MOAbility. In addition to people with developmental disabilities directly participating in the campaign by posting on social media, there are opportunities for all Missourians and organizations to participate. Check out the #MOAbility Power-Ups below.
Facebook Profile Picture Frame: Individuals who want to celebrate the abilities of people with developmental disabilities can use the #MOAbiltiy Facebook Picture Frame in March. To add the frame to your profile picture, just go here.
Facebook Cover Photo: Organizations looking to raise awareness about both the abilities of people with developmental disabilities and the opportunity to get involved in the campaign can use the #MOAbility Facebook Cover Photo during the month of March. To get the cover photo, go here, download the photo, and then upload it to your profile.
Poster: To raise awareness about the campaign, the #MOAbility poster can be printed and displayed at your school, workplace, home, place of worship, etc.
What if I don't use social media?
If you don't use social media but would still like to participate, you can submit your ability and we might post it on social media. To submit your #MOAbility, just send an email to moddc@moddcouncil.org. The email should include:
your name, and
the photo, video, and/or text of your ability.
Once we receive your email, we'll consider posting it on one of our social media channels.
#MOAbility partners
Missouri's 2021 DD Awareness Month campaign, #MOAbility, is organized by:
Questions?
If you have questions about #MOAbility, please contact moddc@moddcouncil.org.
Meet the Poster Designer
Lera Poignee, 20, is a funny and active young woman living with two roommates in Troy, MO.  Lera has one brother, Ethan, and one sister, Katie.  Lera is an active member of the Lincoln County Road Runners "Special Olympics of Missouri" and participates in basketball, soccer, track & field, and bowling.  She has a grey cat, Lulu, and enjoys playing video games and making art in her free time.  Lera has always preferred creating artwork that features animals, people and cars as these are the things that interest her in life.  She prefers to work with colored pencils, markers and crayons but has worked with many other mediums and is always open to try and learn something new.  Lera works for the Asbury United Methodist Preschool Monday through Friday, where she helps children to be safe, healthy and take their first educational steps.  Lera is an avid self-advocate and tries to help others to feel confident in asking for help.  "Speak up for yourself, because no one knows what you need unless you tell them!".
Meet the Poster Designer
Allison was born in the Hunan Province in China on 3 August 1993. She remained in an orphanage in Changsha until we adopted her in September 1994. Ali lived in Tacoma, Washington, until 1996 when her father was transferred to Ankara, Turkey—he was an Army officer. A few weeks before we left for Turkey, we went to South Korea to adopt a baby brother for Ali. His name is Zack. Soon after, we left for Ankara where we lived for two years and then were transferred to Lawton, Oklahoma for the next two years. While in Turkey, we realized Ali wasn't developing as fully as she should have. After great consultation with many doctors and other health practitioners, Ali was diagnosed with Pervasive Development Disorder (not otherwise specified).
After her dad retired from the US Army in 2000, we moved to Blue Springs, Missouri where we still live. Ali loved school and graduated from Blue Springs High School. Since 2002, Ali played on the same tee-ball team with the Exceptionals program. Starting in 7th grade, Ali participated in the school district's Special Olympics activities. She bowled, played basketball, ran track and swam. After her school years, Ali joined the Jackson County Park and Recreation program for Special Populations. Now, she still bowls, plays basketball and bocce, runs track and swims. In addition, she works out at a gym once a week. She loves Special Olympics competitions at the local and state level. In 2018, Ali competed on Team Missouri at the USA Special Olympics games in Seattle, Washington in swimming. Ali won a gold medal for her 100m Individual Medley race, silvers in her 200m breaststroke and medley relay races. Ali placed 6th in the 400m freestyle. In addition, Ali has been recognized as the KC Metro Athlete of the year.
In addition to her sporting activities, Ali has taken piano lessons for almost 12 years. She started volunteering at Harvesters and the Great Plaines ASPCA. Ali attends a day program, Developing Potential (DPI), in Lee's Summit during the week. At DPI, Ali is the president of the Kiwanis Aktion Club which is a service club for developmentally disabled adults. Ali was recognized as the Lee's Summit DPI Individual of the Year.
Ali likes to go and do! She is a good traveler—she loves eating out and staying in hotels but they must have a pool and preferably with a hot tub. Ali has a dog, Warrior, who she cares for and who cares for her
Meet the Poster Designer
Jessie Winnie's story as an artist is special for many reasons. At a young age, she was diagnosed with a type of Cerebral Palsy that impaired her motor skills. Jessie's muscles were "loose" and she was unable to hold anything. 
"My arms would flop around, plus I had tremors where my hand would shake. It was hard to keep my hand steady so when I started to learn how to draw, I would stab holes int he paper but it was the only way I could control the pencil. I would sit outside on the porch with my dad and we would draw together. He was my teacher. Over time, I learned how to control the pencil and strengthened my muscles. Now I am stronger but when my arm is really tired, my hand will still shake."
Jessie started doing art at the age of 8. She was born in Sedalia, Missouri but grew up in Warrensburg, Missouri. Jessie has taken classes at Art Inspired Academy for almost three years and this is her second time as a featured artist with Art Inspired. When asked what the creative process means to her, she replied, "Expressing my feelings, creating things. I like when people say, 'I like it' and 'good job' because when I was a kid, I had a hard time speaking and it was hard to understand people."
Jessie is showcasing a collection of bean and seed mosaics.
Meet the Poster Designers
Nino is in 1st grade at Delaware Elementary school in Springfield, Mo. He is the youngest of 3 children. He has many friends and family that adore him! He loves school and all his friends, especially his girlfriends! Nino loves to hang out with his brother, sister, family, friends, and his "Kelby" (Shelby –Nino's personal care assistant). The family dog, Adriane, is his favorite furbaby. Nino takes her on car rides with him almost daily! Nino has a million activities he participates in but his favorites are riding around in his orange mustang, swimming at his papa's pool, hanging out at his Meme and Papa's lake house or at the ballfield rooting on his brother during baseball games. Nino also loves to play, play, play with anything and everything! His favorites are his cars, trains, and about anything that he can ride in or roll around and make "go'. The most important thing to Nino is to be included and to feel part of everything that anyone else around him participates in! Nino's personality is larger than life and he has a smile that can light up a room! His love for life and people, sense of humor, and happiness radiates around him and immediately can brighten a room! Nino is "pure" love!
Chase is a fifth grader at Truman Elementary in Springfield, Missouri. Chase enjoys academics in school and through tutoring once a week after school. He is known at his school for his skills in operating the 'Rolling Cafe' which offers sustenance to hungry teachers and staff. Outside of school Chase participates in a wide range of activities. He has played every season on the Miracle League's Dodgers team since opening season. Chase has also played many seasons of SPARC soccer. Currently he is an active member of Art Inspired Academy Musical Theater Troupe and takes various art and music classes. Chase rides horses at Dynamic Strides Therapy and loves to swim. Chase is also a member of Boy Scout Troop 420 and wrestles with Central Bulldogs Wrestling Club. Chase is the youngest of five children. He works hard and plays even harder. Chase is a loyal friend, whether you are a teacher, therapist, coach or peer. He is able to see strength and ability of those around him and celebrates friendship with all who pause to enjoy.
My name is Gunnar. I am in 5th grade at Truman Elementary School in Springfield, Missouri. I like to build forts in the woods behind our house with my friends and my little brother Max. I like to play video games, draw, volunteer and play baseball in the summer. I love watching the Kansas Jayhawks with my mom and dad. Rock Chalk Jayhawk!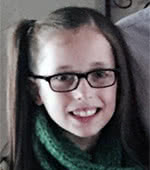 My name is Karlee. I am in 4th grade at Truman Elementary School in Springfield, Missouri. My sisters are my best friends. I love gymnastics, writing, helping others, watching my mom get ready, hanging out with my family, going to my mom's work and helping my mom cook. I also like to watch the Kansas City Chiefs games with my dad.
Meet the Poster Designers
Spencer is almost 20 years old and a graduate of Willard High School. He has developed a love for art during his lifetime because of all the wonderful teachers he has had in Willard Public School (Mrs. Duncan and Mrs. Thatcher) as well as thru Art Inspired Academy (Richard White). These teachers saw a talent and encouraged him to his potential. They never once questioned his ability to do whatever his peers were doing and included him in all projects. He has worked in quite a few different mediums (watercolor, acrylics, charcoal, pen and ink, photography, and pottery just to name a few). He enjoys drawing, cartooning and photography the most. Through his last years of High School he has grown as an artist and now wants to pursue his talents by using what he has learned into making a living for himself thru his art and working in the art field.
Spencer also has dreams of starting his own movie blog, advocating for others, work a job he enjoys, getting a place of his own and marrying the love of his life (Laura) in his future. His future is very bright and he asks that people not judge others by their diagnosis, but by getting to know the person who just happens to have a diagnosis. You will be pleasantly surprised to find out that you are more alike than different.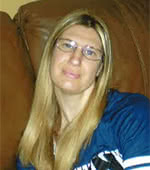 Carrie Pike has lived a very good thirty-nine years. She has had the opportunity to live in four different states and has visited at least twenty-five other states. She has had many great experiences. Carrie is an athlete and loves to participate in a variety of sports but especially loves running, weightlifting, bowling and basketball. She was able to compete in five events in track and fields at the Special Olympics World Summer Games and was selected to carry the torch for the World Winter Games in Alaska. Carrie was employed for Kohl's Department Store for eighteen years but decided to "retire" in order to devote more time to volunteer at the Art Inspired Academy and Art Inspired Boutique. Carrie's real passion is in helping others, especially children with developmental disabilities. While Carrie has a developmental disability she uses that to relate to others, and kids seem to relate to her in a special way. She volunteers in the Art Inspired Academy's theater classes and helps kids learn what they are supposed to do. Carrie is also a special help at her church where she is the greeter in the Special Friends Adult Disables class. Carrie is also a big help at home doing many chores and she watches over her dog and three cats. Carrie is especially thankful to all the people who help her do the things she loves to do. 
April began her employment at the Springfield sheltered workshop about 7 years ago and is still technically their employee. At the sheltered workshop April was given an opportunity to work in the administrative area and she demonstrated outstanding work skills. When the workshop was given an opportunity to place one of their employees at the Abilities First, First Step office April was the first consideration. April was related to the First Step office and has been working there for about 10 months now. She also works in the Inspired Boutique a couple days a week. She has continued to demonstrate string work skills and is now considered one of the Abilities First family.
Jordan started having seizures at 9 months old. After countless doctor's appointments he was diagnosed with Tuberous Sclerosis. It is a genetic disorder which causes seizures, ADD, Autistic tendencies, learning disabilities, and tumors on multiple organs. We felt like this was a death sentence for Jordan. Jordan does have a lot of these issues with this disease but he has been a fighter from the beginning. He now has a VNS implant that helps with the seizures. He falls in the middle of the spectrum. In school, he was in special education classes. Nixa was fabulous to Jordan through all his years of schooling.
Now as an adult, Jordan is mentally at a middle school level. We have been so lucky with all the years of seizures that Jordan was still able to function so well with God on Jordan's side he is a happy boy. After graduation we were able to find Art Inspired. It has been our God Send. He is able to pursue his passion thru signing, acting and drawing. He now also gets to work for Art Inspired which is a dream come true.
Jordan has been blessed throughout his life with Campions Committed to Kids which instilled some lifelong friends. So what once we thought was  death sentence for Jordan with Tuberous Sclerosis we now know has been our blessing. Jordan teaches us every day about the simple things in life and how truly special life can be.
Who Designed This Year's Poster?
This year the Missouri Developmental Disability Awareness Month committee decided to use a poster and theme designed by an artist with a developmental disability. Nineteen designs were submitted. The submissions included many different artistic styles, and different themes, surrounding the inclusion of people with developmental disabilities in every aspect of life. Many of the designs were excellent, and we encourage people to submit again next year.
Meet the Poster Designer
The artist that designed this year's poster, with the theme of "My Ability is Stronger than my Disability" is designed by Ryan Zull, Mr. Zull says, "I have Asperger's Disorder. I never let that hold me back or allow my disability to stop me from reaching for the stars. I am a father of three boys Michael, Brenden and Ryder." Mr. Zull recently graduated from St Charles Community College with an Associate's Degree in Applied Science with an emphasis in Web Page Management and Graphic Design. He is currently a student at the University Missouri-St. Louis pursuing a Bachelor's degree In Art History and Studio Art with an emphasis in Photography, Graphic Design and Art Design. "I want to give special thanks to Christopher Kyle McGinley for being the star of my poster design, and to my UMSL Graphic Design Instructor Gretchen Schisla for everything that she has taught me." He also thanks his DDRB case manager Michelle Godbee for all her support.
2011 DD Awareness Posters
The theme for 2010 DD Awareness Month was "Clean Up Your Language" which focused on the importance of words and language. Let's use language that promotes respect and inclusion for all in our communities. 
Library and School Resources